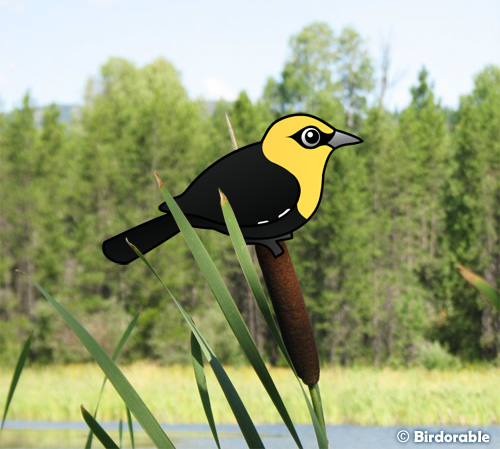 One of the latest additions to Birdorable is the Yellow-headed Blackbird. This striking 8.5-inch blackbird is unmistakable with its yellow head and breast. You can find it across North America and especially in freshwater cattail marshes west of the Great Lakes. Each spring, enormous flocks of yellowheads migrate from Mexico and the southern United States northward to their nesting territories in western North America. You'll often see them hanging out with Red-winged Blackbirds, but the yellowheads are larger and dominant over the redwings. Here's a nice picture of both species flocking together:
The Yellow-headed Blackbird is a handsome bird, but it isn't afraid of getting its beautiful plumage dirty. Check out these pictures by Rick Wright in Arizona of yellowheads hanging out with cows in the mud.
This is our cute Birdorable version of the Yellow-headed Blackbird. For more than 170 other Birdorable birds see the Meet the Birds page.
Cute Birdorable Yellow-headed Blackbird Gifts