Who are you calling stupid?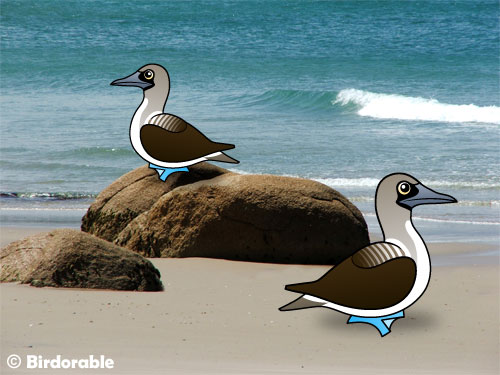 The Blue-footed Booby is a beautiful bird that lives off the western coast of Central and South America. Half of all breeding pairs can be found on the Galápagos Islands, which is one of those places that I would love to visit once in my life. A true birder's paradise! Isn't this an astonishing pair of blue feet?
Blue-footed Boobies are marine birds that only come to land to breed. The name 'booby' comes from the Spanish word bobo, which means stupid fellow. Hey, that's not very nice! They were given this name for the clumsy way they walk around on land. But when they are on land they sure love to dance and show off their blue feet! Check out this great video from National Geographic:
If you like our Birdorable Blue-footed Booby then don't forget to check out our products here. We've also added another Booby this week, the Peruvian Booby.