We recently moved into a new home in a village north of Chicago (before this we lived in the Netherlands). One of the first things we did after moving in was set up some bird feeders in our backyard. The area we live in is quite urban and in the first two weeks we didn't see many birds at all, except for some crows and starlings flying by. That changed a week ago when a beautiful male Northern Cardinal was hanging out in the trees behind our fence. He was looking at the feeders, but they were actually not suitable (too small) for a cardinal. We had bought some bigger feeders a couple of days earlier but the ground was too hard to put them in. Shortly after that I saw some Dark-eyed Juncos (slate-colored) flying around, but again they weren't landing on the feeders. Then a little bit later we suddenly saw an American Goldfinch chowing down on seeds. Yah, that was our very first backyard bird here in our new home. :)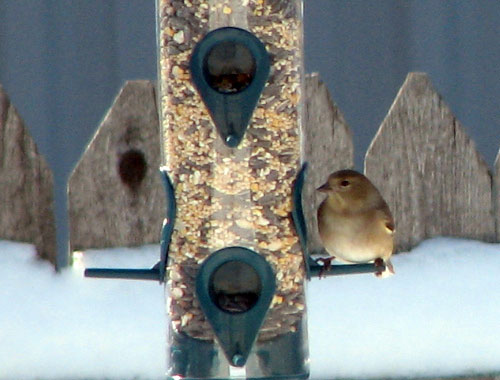 In the past week a lot of juncos have been coming and going. They are so cute, hopping around the ground looking for seeds. Unlike many other birds, the juncos prefer to eat on the ground. They don't care about all the fancy feeder equipment we bought and prefer to hop around below them. At the beginning they were very hesitant to go anywhere near our feeders and a few always kept watch from the trees as one was eating, but now the juncos are getting more comfortable and they are staying around for a while.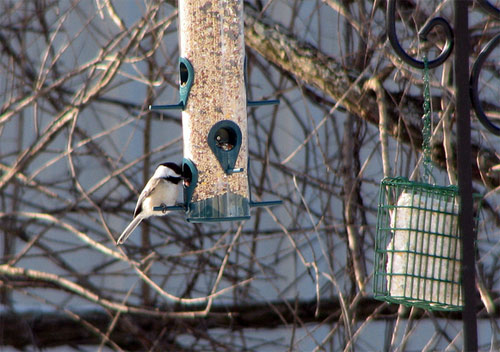 Today we had a new visitor to our yard, a Black-capped Chickadee. Two, actually! I know it's no big deal to get these juncos, goldfinches and chickadees in your backyard, but we're quite excited to finally have some after not seeing any for a couple of weeks. We're hoping that these guys will tell all their friends and we'll soon have lots of birds at our feeders. Which birds do you get in your backyard?