12 Days of Birdorable: Eight Milky Storks
On the eighth day of Birdorable, my true love gave to me… 8 Milky Storks! Our 12 Days of Birdorable continues today with yet another brand new bird species, this one from the stork family.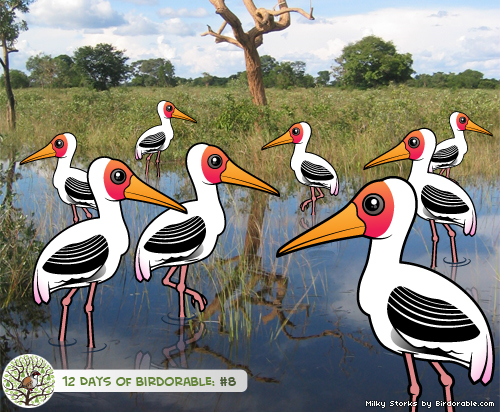 The line Eight Maids-a-milking in the song "The 12 Days of Christmas" of course refers to milkmaids, women who work at milking dairy cows. Milking cows actually used to be considered "women's work"! Since this is the second line in the Christmas carol that does not refer to birds (the first one was gold rings), we had to get creative again, and came up with the appropriately-named Milky Stork for the 8th day of Birdorable.
This is the eighth day of our 12 Days of Birdorable holiday event. Previously featured were: