12 Days of Birdorable: Ten Lord Howe Woodhens-a-leaping
On the tenth day of Birdorable, my true love gave to me… 9 Lord Howe Woodhens! Our 12 Days of Birdorable continues today with yet another brand new bird species, the endangered, unique Lord Howe Woodhen.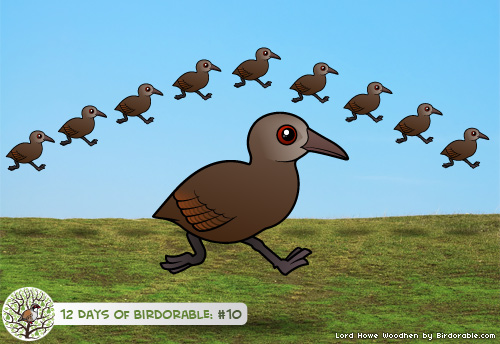 The line Ten Lords-a-leaping in the song "The 12 Days of Christmas" of course refers to jumping men (a nice follow-up to the previous day's dancing ladies!). Here on Birdorable, a bird with a royal name substitutes for the leaping lords: the Lord Howe Woodhen. The bird, a member of the rail family, is endemic to Lord Howe Island, which lies off of Australia.
This is the tenth day of our 12 Days of Birdorable holiday event. Previously featured were: