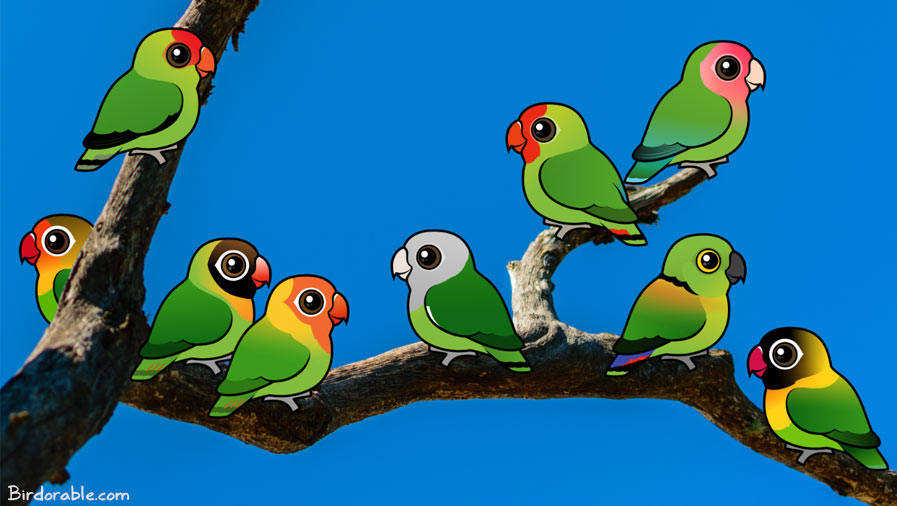 The nine species of lovebird in the world all belong to the genus Agapornis, which is Greek for love (agape) bird (ornis). These small and colorful parrots are known for their social affection and strong pair-bonding between lifelong monogamous mates. Their beauty and natural personalities make some of them popular species in aviculture (pet birds). Here are some facts about the species in the lovebird family.
Lovebirds are native to Africa. Eight species come from the mainland African continent, while the Grey-headed Lovebird is native to the island nation of Madagascar.
Most lovebirds have a varied diet which consists of fruits, vegetables, and seeds. Some lovebirds also eat figs and insects. The Black-collared Lovebird has a special diet in the wild, feeding on local figs. This dietary requirement makes the species one of the least popular lovebirds in the pet trade.
Lovebirds typically live from 10 to 15 years, but may reach up to 20 years in captivity.
Lovebirds are cavity nesters. Females take care of nest building, bringing material to the nest either in their beaks or tucked into their tail feathers. Red-headed Lovebirds nest in termite mounds. Established feral Rosy-faced Lovebirds in Arizona nest inside cactus plants.
Because of their popularity in aviculture, several species of lovebird have multiple color mutations. Some lovebird species have mutiple common names, like the Rosy-faced Lovebird, which is more commonly known as the Peach-faced Lovebird in the pet trade.
Most species of lovebird are not considered to be threatened by conservation experts. Lilian's Lovebird and Fischer's Lovebird both have the status of Near Threatened. The Black-cheeked Lovebird has a status of Vulnerable, facing threats from the pet bird trade, loss of habitat, and changes in local agriculture practices.
Lovebirds are among the smallest species of parrot. The Grey-headed Lovebird is the smallest of the lovebirds, measuring about 13 cm in length. Rosy-faced Lovebirds and Black-winged Lovebirds are the largest, measuring over 16 cm in length.
In most species of lovebird, males and females have similar plumage and are difficult to tell apart (if you're not a lovebird). Three species of lovebird exhibit sexual dimorphism: the Grey-headed Lovebird (named after the male -- females are entirely green); the Black-winged Lovebird (males have red at the forehead that the female lacks); and the Red-headed Lovebird (the male has more red in the head than the female).
Rosy-faced Lovebirds, known more commonly as Peach-faced Lovebirds in aviculture, are among the most popular of all pet birds. There are many different color mutations and understanding Peach-faced Lovebird genetics can be somewhat complicated.
Cute Lovebird Gifts from Birdorable