2016 Bonanza Bird #1: Scissor-tailed Flycatcher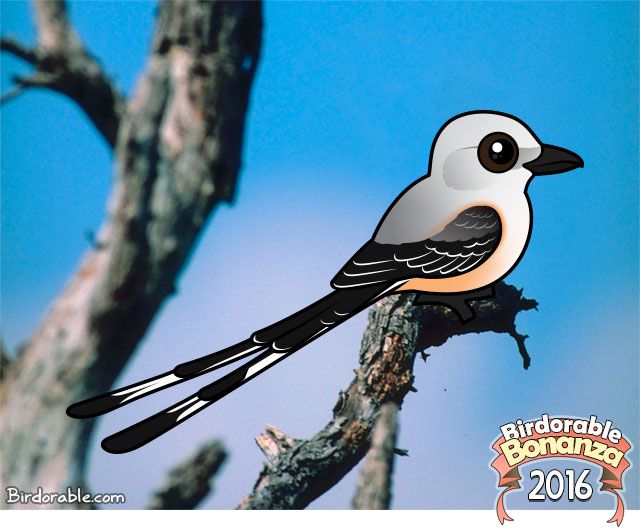 It's time for our 2016 Birdorable Bonanza! This time we are commemorating the 10 year anniversary of Birdorable with a 10-bird celebration.

Today's new bird is the Scissor-tailed Flycatcher, a beautiful species in the kingbird genus and the tyrant flycatcher family. These beauties breed in south central parts of the United States and migrate down into Central America for the winter.

Male and female Scissor-tailed Flycatchers have similar plumage: greyish upperparts, light underparts with salmon or pink flanks, and black and white feathers on their extremely long tails. Males have longer tails in general -- up to 30% longer than typical females.

Scissor-tailed Flycatchers feed on a variety of insects which they hunt in a hawking fashion (flying out to capture prey discovered while waiting on a perch). Their long tails make them agile in flight, able to make quick turns and drops in pursuit of prey.

Tomorrow's new bird is the largest in a family known for their unique plumage and remarkable courtship rituals. Can you guess what species it is?