Did you know? Cavity-nesting ducks
With their special water-resistant plumage, ducks are made for water. But did you know that several species of duck actually require trees when it comes to breeding? Some ducks are cavity nesters. We've recently added one of these cute little cavity-nesting ducks to Birdorable. The Bufflehead is one of the smallest species of duck to live in North America. They're just about 14 inches long, and they use cavities excavated by Northern Flicker woodpeckers! They also use nestboxes, as in the photo below.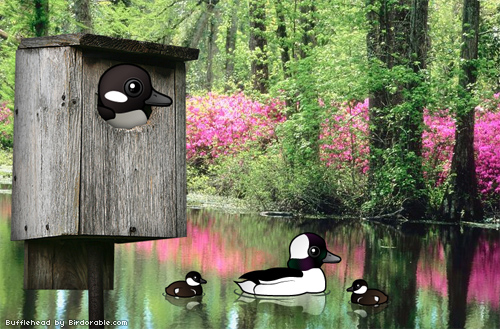 Besides the Bufflehead, some other ducks that nest in cavities or nest boxes are: Hooded Merganser; Black-bellied Whistling Duck; Wood Duck; Common Goldeneye; and Common Merganser.