May is Warbler Neck Awareness Month!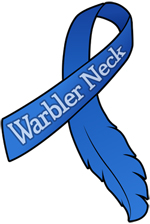 May is Warbler Neck Awareness Month. Warbler Neck (WN) Awareness is promoted with a cerulean blue awareness ribbon, one side of which is transformed into a feather, shown here at left. Gorgeous little warblers in bright breeding plumage migrate through parts of the United States during the months of April and May. In order to see these colorful winged beauties, birdwatchers often must look high up into the trees, up in the canopy where the hungry birds are most active. Tracking a little moving bird as it forages for insects between the leaves requires patience. And it means looking up, way up, for an extended period of time. All this sky-high searching may result in a big pain in the neck: Warbler Neck.
Birdwatchers by Sugar Pond
The day after your next birding excursion, if you feel aches in your neck, shoulders, or upper back, you can blame the warblers. You've got Warbler Neck. You can help spread awareness about Warbler Neck among your birding pals with original WN Awareness gear from Birdorable. To learn more about Warbler Neck, check out the following articles: What is Warbler Neck? | Triggers for Warbler Neck and side-effects | Who is most likely to suffer from Warbler Neck?
Support Warbler Neck Awareness