New Birds for Gull Week: Pallas's & Western Gull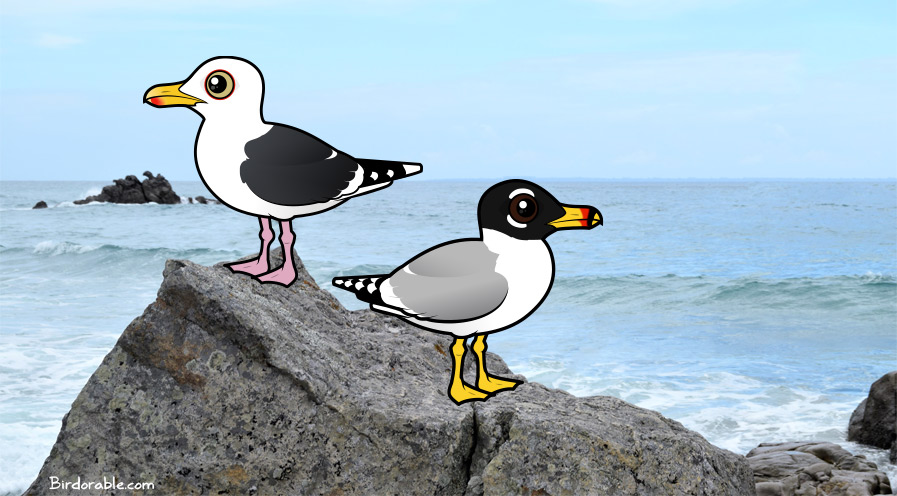 Two new birds in the gull family Laridae join Birdorable this week! We've added the Pallas's Gull and the Western Gull to our cute cartoon bird family.
The Pallas's Gull is one of the largest species of gull in the world. It is a so-called "black-headed" gull because it is one of several species of gull that develops a fully black head during breeding season. An alternative name for this bird is the Great Black-headed Gull. They can weigh over four and a half pounds as full adults! Only the Great Black-backed Gull and Glaucous Gull average larger.
This bird is named after the prolific naturalist Peter Simon Pallas, who has several other species named in his honor, including Pallas's Cat, Pallas's Squirrel, and Pallas's Tube-nosed Bat.
The Western Gull is another large species of gull -- they can weigh in at three pounds or more. This is a "white-headed" gull found along the Pacific coast of North America. Western Gulls feed on the ocean, taking prey like squid, fish, and jellyfish on the surface since they are unable to dive. Western Gulls will also feed on carcasses of large marine mammals like sea lions, and opportunistically take food items like snails and starfish in intertidal habitats.
The San Francisco Giants have experienced problems with flocks of Western Gulls visiting their stadium in the late innings of baseball games. They presumably come to feed on refuse left in the stands by fans, but before the game is over flocks visiting the park poop on fans and swarm the playing field. The native birds are protected by federal law, although the Giants could get the gulls to disperse with the help of a falconer.
Pallas's and Western Gull Gifts