Warbler Week: Four New Birdorable Warblers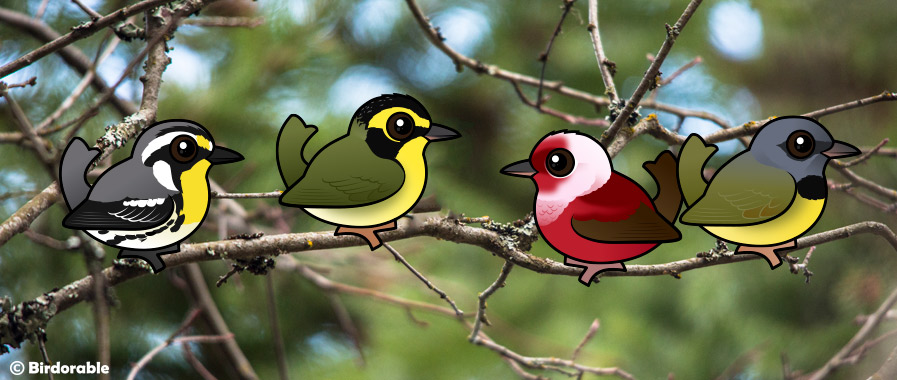 We're celebrating warblers this week on the Birdorable blog! We're starting off this Warbler Week with the introduction of four new Birdorable warblers!
The Mourning Warbler is a small warbler with a chunky appearance. They can be recognized by their grey heads, olive backs, and yellow underparts. They also have a black chest patch. Our Birdorable bird is an adult male; females have a similar color scheme but with more muted tones.
The Yellow-throated Warbler breeds mainly in the east and southeast of the United States. These migratory birds can be recognized by their grey, black, and white plumage highlighted by a bright yellow throat and breast.
The Kentucky Warbler migrates between breeding grounds in the southeast United States and winter territory through parts of Central America. They have olive upperparts and yellow underparts and a contrasting black and yellow pattern on the face. Their song sounds like "p-chee, p-chee, p-chee."
The Pink-headed Warbler is a New World species that is a year-round resident in its range through parts of Guatemala and Mexico. The live in highland habitat. Pink-headed Warblers are appropriately named; they can be recognized by their beautiful red body plumage and pretty light pink heads.
These four New World warbler species join 24 other Birdorable warblers, bringing our total to 28. Thanks for joining us as we celebrate warblers this week! Come back tomorrow for more warbler fun.
New Birdorable Warbler Apparel