Cranes in Mythology and Popular Culture
Almost anywhere you can find cranes living in the wild, you can find cranes in human mythology and popular culture. They are often symbols of happiness, youth, good luck, and/or peace.
In Japan, as in many other parts of Asia, cranes are regarded as symbols of good fortune, peace, and youth. Japanese legend tells that anyone who folds a thousand origami cranes will be granted one wish.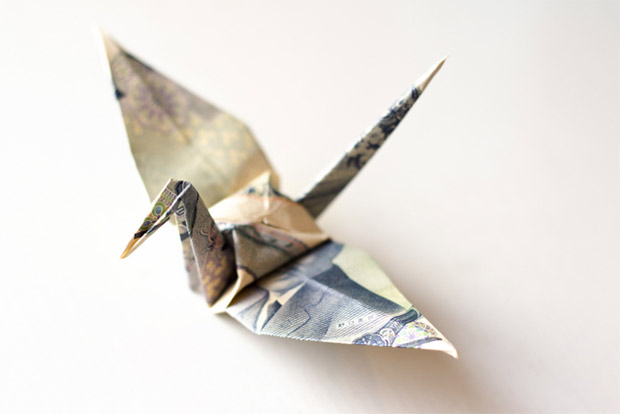 In China, the Red-crowned Crane is prevalent in mythology. It is a symbol of nobility, as well as youth, longevity, and immortality.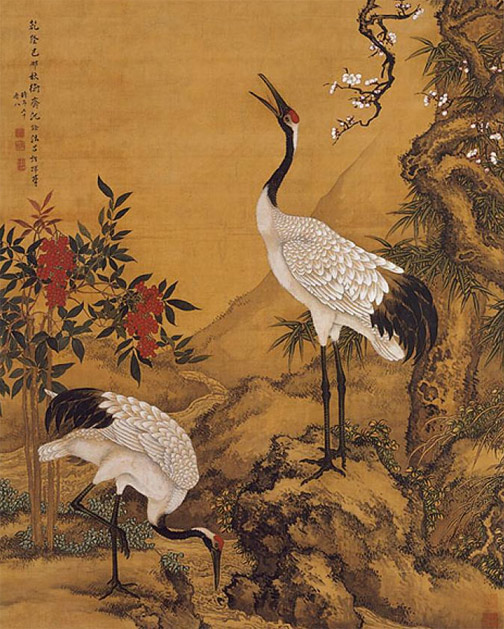 In heraldry or coats of arms, a crane is often shown holding a rock with its foot. The symbolism comes from a legend attributed to Pliny the Elder. He wrote that a group of cranes under attack put one bird on watch. The bird on guard duty would hold a rock; if the crane accidentally fell asleep, the sound of the falling rock would awaken the bird.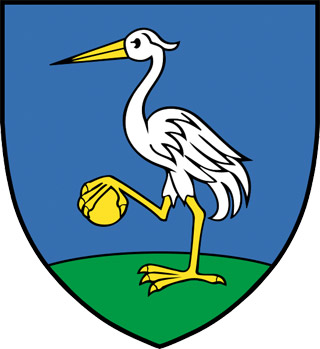 The elaborate mating and pair-bonding dances performed by cranes are noted in several cultures. The Blue Crane is prominent in the culture of the Xhosa of southern Africa. Feathers from the bird are used in ceremonies to decorate distinguished men.
In native Siberian culture, the Siberian Crane is sacred, a symbol associated with the sun and spring time.
In Germany, there is a museum devoted entirely to the natural history of the Common Crane! The Kranich Museum is in a renovated manor house in Mecklenburg-Vorpommern. There are displays of various pieces of artwork related to the birds, including video, murals, costumes, and other media.
The Sarus Crane is considered sacred in several Indian cultures. They are known as symbols of marital virtue because they mate for life. When a Sarus Crane dies, its mate was believed to starve to death in sorrow.
Cranes are featured in a few of Aesop's fables. In The Geese and the Cranes, a mixed flock of geese and cranes were feeding in a meadow. A birdcatcher came to ensnare them in his nets. The cranes, being light of wing, fled away at his approach; while the geese, being slower of flight and heavier in their bodies, were captured. The moral of this story is that those who are caught are not always the most guilty. Other fables attributed to Aesop that include cranes are The Wolf and the Crane and The Peacock and the Crane.