12 Days of Birdorable: Twelve Drumming Ruffed Grouse
On the twelfth day of Birdorable, my true love gave to me… 12 Drumming Ruffed Grouse! Our 12 Days of Birdorable concludes today with a new bird: the Ruffed Grouse!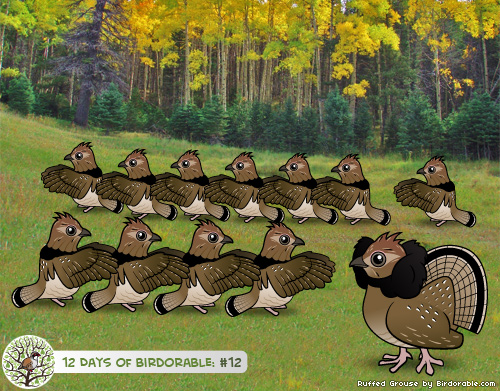 The line Twelve Drummers Drumming in the song "The 12 Days of Christmas" refers to musicians playing drums. Since Ruffed Grouse perform an act called "drumming" as part of their courtship ritual, we thought they would be a suitable bird substitute for this final day of gifts. Ruffed Grouse beat their wings to make the noise, either on the ground or on a fallen log. The noise is part of what they do to attract a mate.
| | |
| --- | --- |
| | |
| Ladies Baby Doll Fitted T-Shirt | Toddler T-Shirt |
This is the twelfth and final day of our 12 Days of Birdorable holiday event. Previously featured were: